This post originally appeared on Lauren Scruggs Kennedy's LSK Newsletter, and on her website here. 
Fall is officially here! It's getting colder, leaves are changing color, and love it or love it, we're deep into Pumpkin Spice Latte season. Or maybe the season of pumpkin spice everything, especially with Thanksgiving right around the corner and pie on the brain!
[Check out this healthier alternative: Pumpkin Turmeric Spice Latte]
Even here in Hong Kong, each season is marked by beautiful culinary traditions. We just celebrated Mid-Autumn Festival (中秋節), streets aglow with lanterns and spiced mooncakes shared around family tables.
Turmeric: Spice World's Wonder Child
There's one spice, though, that seems to be leading the pack. Enter turmeric, wonder child of the spice world.
It's everywhere now, from turmeric shots at your local juice bar, to turmeric-infused kombucha, to an ingredient in your face masks. I've even seen turmeric cocktails, and if a spice has made it to Happy Hour, then you know it's #winningatlife.
Turmeric is not new on the scene though; it's been a staple in Indian cuisines for centuries, usually prepared with fats and other spices that work synergistically to enhance flavors and potentiate health benefits. With a long list of scientifically-supported benefits, its recent popularity on a more international scale is well-deserved.
It's really the compounds within turmeric that are the heavy lifters. Turmeric contains powerful substances called curcuminoids, the most important of which is curcumin. So, every time you season a dish with this yellow/orange pigmented spice, or choose one of the many turmeric-infused products lining grocer's shelves, it's the curcumin contained within turmeric that carries the most (known) benefit.
But turmeric root itself only contains between 2% and 5% actual curcumin, so if you're looking to really benefit from it, taking a high potency curcumin supplement is worth considering.
Benefits of Curcumin
Curcumin is broadly anti-inflammatory, even showing potency comparable to over-the-counter medications like aspirin (without the side effects). It's detoxifying, immuno-supportive, anti-viral, anti-bacterial, and anti-fungal. It supports heart health, neurological (brain) function, is neuroprotective, and has been shown to reverse cognitive decline in Alzheimer's disease.
Curcumin is a potent antioxidant and a free radical scavenger, making it very anti-aging. It's supportive in women's health, with conditions like PMS, and the list just keeps going. Curcumin's benefits are expansive and our understanding continues to grow with ongoing dedicated research.
But, probably one of its most significant benefits is its impact on cancer. While there are no standalone therapies for cancer (and you should always consult your medical team before taking anything), curcumin's impact on multiple cancer cell pathways has made it a staple in most Naturopathic and Integrative Oncology protocols, both from prevention and treatment perspectives.
Bottom line: Curcumin is awesome. I take it everyday in some form or fashion.
But there's a problem.
Curcumin's Lack of Bioavailability
Despite its expansive (and scientifically-supported) list of health benefits, it lacks bioavailability. You could be consuming it (as turmeric in your cooking, or in poorly formulated supplements), but your body isn't reaping the benefits because of a lack of uptake.
In other words: "Because of curcumin's rapid plasma clearance and conjugation, its therapeutic usefulness has been somewhat limited, leading researchers to investigate the benefits of complexing curcumin with other substances to increase systemic bioavailability."
Fortunately, so much progress has been made in terms of dramatically increasing curcumin's bioavailability through different supplemental formulations.
Different Curcumin Formulations: Buyer's Guide
A quick search online will have you inundated with hundreds of different brands, each claiming it's "the most" bioavailable. But before you decide on a brand, what might help you make an informed decision (along with your doctor) is first understanding that there are different formulations of curcumin, that brands then choose from to create their products. The curcumin component of turmeric root has been extracted and then enhanced in one of the following ways to boost absorption levels and overall impact on your body. Here are a few that I have used and recommend.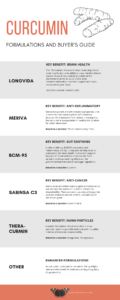 Pumpkin Turmeric Spice Latte Recipe
As promised, here's my favorite spin on the classic Pumpkin Spice Latte. Enjoy!
1.5 cups Coconut Milk
1 tbsp Pumpkin Puree
1 tsp Turmeric Spice
1 tsp Pumpkin Pie Spice Blend
1 tsp Honey (optional – for sweetening, but usually not needed)
1 scoop Collagen (optional – excellent source of protein)
**Cinnamon for topping
Disclaimer: As with any supplement, run everything by your medical team before taking – with your own unique health status and needs in mind.